Login
Log in if you have an account
Dont have an account? Register
Head Lice:
Detection, treatment and prevention
Not by killing them (partially), but by removing them all together.
Our principle: no nits in the hair is better then potentially live nits in the hair.

• Proffesional method
• For at home treatment
• Easy & safe
• 100 % trustworthy
Head Lice-Kit 'Luizenkliniek'
The unique combing method with the 'Head Lice-Kit' of the Dutch Lice Clinic.
Approved by the RIVM (Dutch Health Organization).
"I was really shocked! For two weeks I was using lotion and was combing twice a day. Each time, all I found was just a single louse or a few nits. When I started combing with this Kit, I never thought it would take out multiple lice and even a few hundred nits! It was the moment I realized how many I had missed all along"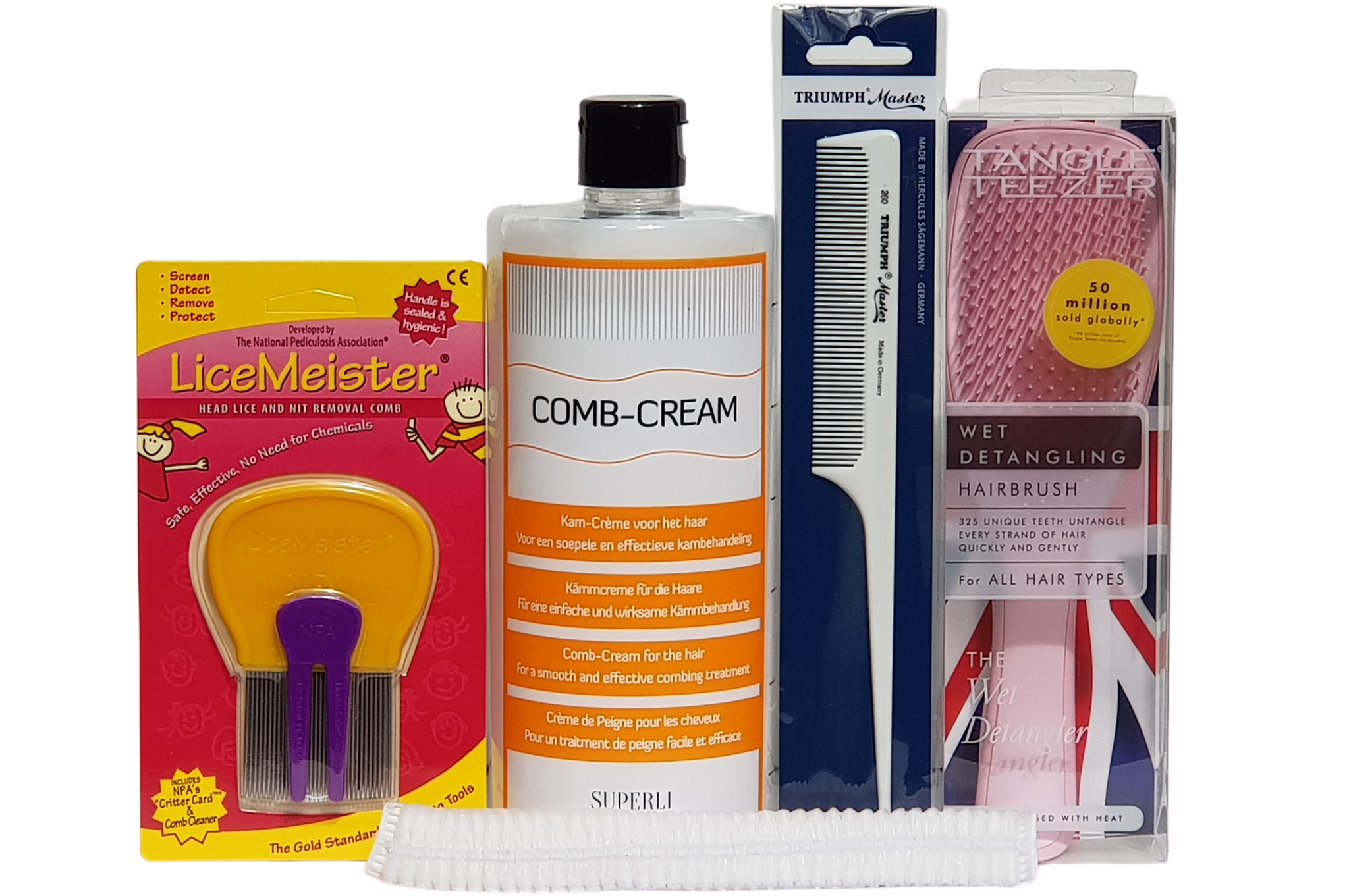 How do regular methods fail?
Lice treatments: The Achilles' heel of lice treatments is that they often fail to kill all the nits.
Nit combs: Lice escape from the combing zone, nymphs and nits slip through the teeth of the comb.
The promise of our method
Regular treatments often don't remove everything.
In contrast, with our method, 100% of the lice and 99% of the nits can be removed at the very first combing session.

But what about the remaining 1%? Quite easy: we break their life cycle!
Regardless of the degree of infestation, the hair structure or the hair length, this professional combing method guarantees 100% reliable detection and complete elimination of any head lice infestation.
Please follow the instructions carefully! This way, after 4 to 7 combing treatments you are 100% lice-free.

Our tip: if used preventively (+5 minutes per week) you can even be licefree for good!


How does our combing method work?
In this video, and the explanation below, you can see exactly what the significant difference between regular treatment methods and combing with our Head Lice-Kit is.
What do our Kits contain?
The Head Lice-Kit consists of 2 essential products:
- Comb Cream
- Licemeister Nit Comb
Difficult hair to comb? Curly/frizzy hair?
In addition to the 'Head Lice-Kit' we also offer a 'Head Lice-Kit' Detangler' (tangled hair) or 'Head Lice-Kit Ultimate' (thick/curly hair).
These kits are completed with products for optimum preparation and combability.
Comb cream
A professional comb cream, especially developed for an easy and effective combing treatment.
A unique "quicksand" structure that does not kill lice, but traps, encapsulates and removes them.
• Catches and removes lice and nymphs.
• Prevents lice from running away from the comb zone.
• Blocks the gaps between the tapered tips of the comb teeth and prevents the lice/nymphs from slipping through.
• Nits: Detached nits stick to the cream and are effectively removed.
• Easy and painfree: Makes the combing of even the most impossible hair structure easy and comfortable. Prevents healthy hair from being pulled out or breaking.
• Safe and caring for skin and hair. The 'Comb Cream' does not contain any silicone, parabens, pesticides, dyes or perfumes. For all ages and pregnant/breastfeeding women.
A normal conditioner is not intended for use on the scalp and does not have this lice-catching effect. 
[powr-multi-slider id="29eb7d07_1592560924"]
Licemeister, Professional Nit Comb
'as effective as 16 tweezers in a row'
"But I already have a nit comb" Yes, but this one is different!
Amply tested by the head lice specialists at the Dutch Lice Clinics.
Results: "This is the only nit comb, that truly effectively removes nits out of the hair".

Unrivaled effectiveness. The Licemeister takes out even the smallest of nits.
Thanks to the following combination of properties, 99% of the nits can be removed in just one combing session:
• Unique sealing technique, that ensures the handle encloses each individual comb tooth all around, and so deeply in it, so that the comb teeth cannot diverge.
• Narrowest space between the comb teeth.
• High-quality comb teeth made of stainless steel that do not bend or break.
• Lasts a lifetime through superior quality.
• Approved. The only nit comb approved by the state health authority 'FDA' and the Dutch R.I.V.M.
• Painless. Ground round comb teeth-tips that do not damage the skin. A scalp that is tormented by a bad nit comb, hurts, flakes off and itches.
• Hygienic & anti-breakage: does not pull out hair and is very hygienic thanks to the closed handle with a clean finish.
[powr-multi-slider id="fb67ba1a_1592560716"]
Reviews
"We would really like to thank you. At a certain point it will drive you crazy, having tried everything with no results. After combing the first time we hardly found anything anymore, and the last time everything was really gone. What a relief!
We still apply this combing method regularly just to check, but we never had this issue again. I can really recommend it to everyone."
"How amazing this cream is! Without this stuff I can't get through my thick hair with a nit comb.
I now use use it to daily detangle my hair. I was afraid your nit comb would be no different than the combs that I already had, but it is indeed much better. After just one combing session, I already practically got everything out."
"It always seemed to be gone, but then we would always find these very small lice again with my eldest. We checked our youngest often, who has thinner hair, but she always seemed clear. Then we screened the whole family with your combing products, on your advice, and it turned out that the youngest had lice after all! Only then did we realize that the youngest had repeatedly contaminated the eldest. Luckily, both are now lice-free." 
"At first I found the combing very difficult and the comb always got stuck in the hair. So I couldn't comb out the lice effectively. I then contacted you and you gave me very friendly and good advice. Turns out, I hadn't followed the instructions correctly. My daughter has a lot of hair and I hadn't  properly brushed the knots out of the lower layers of the hair. I then reordered the "Ultimate" hairbrush and followed all the instructions exactly. Then everything went very easily and she was quickly free of lice. Before that, I had tried everything for 4 months! I recommend it to everyone, but it is important to read and follow the instructions carefully."